Savannah – On 8 July 2019, USNI News reported that the USS Harry S. Truman (CVN-75) and its carrier strike group were underway in the Atlantic Ocean for a Composite Training Unit Exercise (COMPTUEX) and the USNI's Fleet and Marine Tracker (see linked image below) also showed that the Truman was underway in the Atlantic. Activity that I saw yesterday on ADS-B Exchange and heard on the radios from Savannah indicates that the strike group has made it's way down to Florida's Atlantic Coast for the COMPTUEX.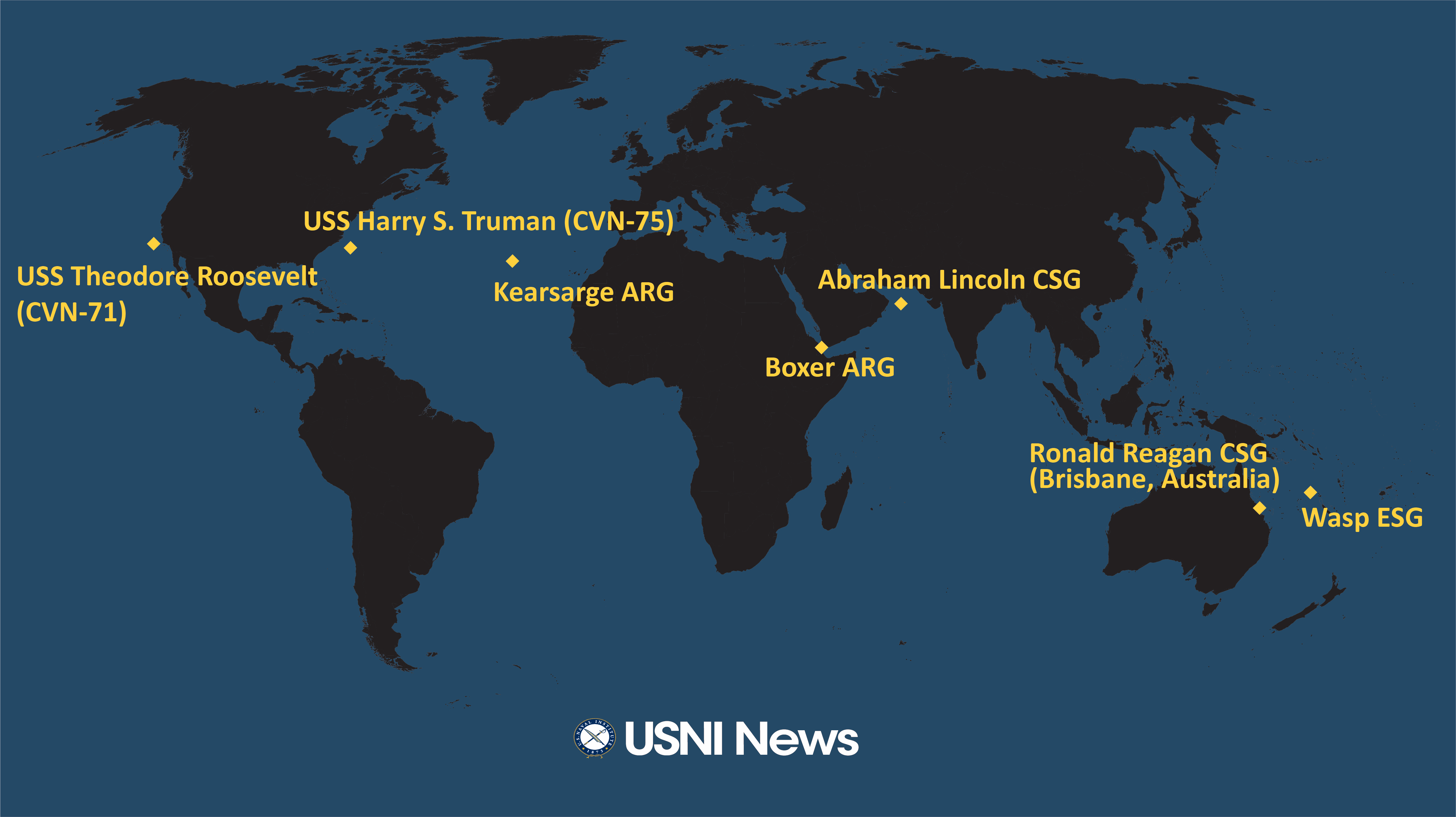 While tracking other aircraft on ADS-B Exchange that had moved out of my ADS-B/Mode-S receiver's range yesterday morning, I noticed that a couple of P-8As and a KC-135R were working off of Florida's Central Atlantic coast. That kind of activity is unusual for a Sunday morning, so having read the USNI article earlier in the week, I started thinking that perhaps the Truman was down in that area. Over the course of the day, I heard a couple of C-2As, RAWHIDE 71 (C-2A, 162168, VRC-40) and RAWHIDE 72 (C-2A, 162172, VRC-40), head south and one of them head back north later; the Carrier Onboard Delivery aircraft's presence also pointed to the Truman being off of Central Florida. I also caught LANCER 33 (P-8A, 168431, VP-10) and RIPTIDE 39 (LJ35, N39FN, L-3 Communications) entering and exiting the SEALORD controlled offshore operating areas; both quite likely could have been operating with the carrier strike group. I also caught LION 01/02 (F/A-18F, VFA-213) heading southbound along the Atlantic coast yesterday, but I'm not sure if they were related to the Truman or if they may have been going down to NAS Key West or somewhere else. Frequencies yesterday's traffic was heard on were:
282.200/124.675 -Jax Center Jekyll Low
285.650/126.125 – Jax Center Statesboro High
307.250/126.350 – Jax Center St. Augustine High
317.550/134.375 – Jax Center Charleston Low
363.200/132.925 – Jax Center Allendale/Savannah Low
120.950/284.500 – Sealord North Primary
133.950/267.500 – Sealord South Primary
Any other radio traffic from the carrier strike group seemed to be too far to the south for me to hear from Savannah, but if they move into my listening range, I'll post an update with further information.
---
---
Categories: Callsigns, Frequencies, Military Monitoring, Scanning, USS Harry S. Truman